Looker - Overzicht
Wat is Looker?
De intuïtieve benadering voor gegevensverkenning van Looker maakt de verspreiding van een op nieuwsgierigheid gebaseerde cultuur zowel efficiënt als effectief. Een intuïtieve, webgebaseerde interface stelt zakelijke gebruikers in staat om het talent van je team voor gegevensanalyse aan te boren. Ze kunnen op elk gewenst moment rapporten ontwerpen en delen, zodat andere functionele groepen kunnen profiteren van de vragen die ze stellen en de kennis die ze hebben gecreëerd. En aangezien de hele Looker-ervaring zulke bevredigende resultaten oplevert, zullen ze de gegevens gaan gebruiken als basis voor hun zakelijke beslissingen en activiteiten.
De kern van de gegevensacquisitie via Looker is een nieuwe manier om deze webgebaseerde ervaringen te creëren. Met behulp van LookML, een flexibele, eenvoudig aan te leren taal, kunnen je gegevensanalisten mini-toepassingen creëren die kracht en efficiëntie toevoegen aan de verkenning van gegevens. De LookML-syntaxis vereenvoudigt de ontwikkeling van robuuste modellen voor elke organisatie en versterkt de mogelijkheden van SQL. Het is niet nodig om tijd en middelen in te zetten voor het coderen van zoekopdrachten op ad-hocbasis of voor het opzetten van complexe softwareplatforms voor business intelligence (BI). Deze op taal gebaseerde aanpak resulteert in een snellere uitvoering van zoekopdrachten en optimaliseert tegelijkertijd de prestaties.
Looker - Overzicht
Prijzen
Prijsopties
Prijs-kwaliteitverhouding
---
Looker - Functies
Markten
Verenigde Staten van Amerika, Canada, Verenigd Koninkrijk, Australië
Ondersteunde talen
Engels
Media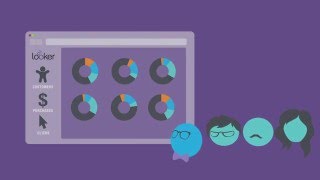 Looker reviews
Looker reviews
Prijs-kwaliteitverhouding
4,3
95%
heeft deze app aanbevolen
I could not be happier with Looker. My one hesitation in recommending it is that other tools seemed to be able to provide 80% of the value at 20% of the cost, but I've only demoed those tools and not actually used them so I'm not sure if they could actually deliver.
---
Like I said, it's a great tool for analysts that don't need a lot of flexibility or maybe just aren't used to working with a lot of data. To get the full value out of this software, you'll need a core group of experienced Data Analysts that can learn fast (to learn Lookers Table Calculation code which is similar to SQL) who can build a bunch of dashboards and views. You really don't want people who aren't savvy with data doing a lot of the creating because measures are always aggregated based on the dimensions you pull into each table...if a user forgets to add a specific dimension then measures could show the wrong value. This could be offset by having really good developers who architect the data in a way that doesn't allow this to happen.
---
We get to force-multiply our impact by making it easy for users in all departments to make data-driven decisions and help allow that to drive their day-to-day.
---
Looker is quickly becoming our go-to for reporting and dashboarding for anything requiring more than one data source (and some that are based on just one). Paired with a kick-ass centralized data warehouse (we use Snowflake), Looker lets us roll things out very quickly (provided our data infrastructure is in good shape). It did take a while to get going with Looker because it lays on top of the existing data infrastructure. Now that we have quite a bit of strong infrastructure in place in our centralized data warehouse, we are able to produce data products in Looker quite quickly.
---
Vergelijk de totaalscore met alternatieven
Vergelijk met alternatieven
Vergelijk gebruikersaanbevelingen met alternatieven
Vergelijk met alternatieven
Prijzen van Looker
Vergelijk scores voor prijs-kwaliteitverhouding met alternatieven
Vergelijk met alternatieven
Looker - Functies
Looker - Functies
Gegevens importeren en exporteren
Rapportage en statistieken
Vergelijk functiescores met alternatieven
Vergelijk met alternatieven
Categorieën
Looker - Veelgestelde vragen
Looker - Veelgestelde vragen
Hieronder zie je enkele veelgestelde vragen over Looker.
V. Welke prijsmodellen heeft Looker te bieden?
Looker kent de volgende prijsmodellen:
Prijsmodel: Abonnement
Gratis proef: Niet beschikbaar
V. Wat zijn de voornaamste functies van Looker?
We hebben geen informatie over functies van Looker
V. Wat zijn de typische gebruikers van Looker?
Looker heeft de volgende typische klanten:
Klein bedrijf, Grote ondernemingen, Non-profit, Middelgroot bedrijf
V. Welke talen worden door Looker ondersteund?
Looker ondersteunt de volgende talen:
Engels
V. Welke prijsmodellen heeft Looker te bieden?
Looker kent de volgende prijsmodellen:
Abonnement
V. Biedt Looker ondersteuning voor mobiele apparaten?
We hebben geen informatie over apparaten die door Looker worden ondersteund
V. Met welke andere apps kan Looker worden geïntegreerd?
Looker kan worden geïntegreerd met de volgende toepassingen:
Alooma, Dropbox Business, Improvado, Kustomer, LoginRadius, Panoply, Rippling, Workable, Workpuls, Xplenty
V. Welke mate van ondersteuning heeft Looker te bieden?
Looker biedt de volgende ondersteuningsopties:
Kennisbank, Online ondersteuning, Veelgestelde vragen, Forum, Video-instructies