Clio - Overzicht
Wat is Clio?
Clio is de toonaangevende cloudgebaseerde software voor de juridische sector. Clio vergemakkelijkt de dagelijkse activiteiten van juridische professionals van over de hele wereld met intuïtieve tijdregistratie, facturering, materiebeheer, mobiele apps en meer, voor het stroomlijnen van elke taak, van intake tot factuur. Met Clio Manage, de populairste software voor juridisch praktijkbeheer ter wereld, en Clio Grow, een juridisch CRM-platform waarmee je je klantenrelaties beter kunt beheren, biedt de Clio Suite alles wat je nodig hebt om je bedrijf te runnen, te beheren en te laten groeien.
Clio Manage: focus op factureerbaar werk. Laat Clio omslachtige taken automatiseren, workflows optimaliseren en zaken organiseren, zodat je betere klantervaringen kunt bieden.
Neem snel goed gefundeerde zakelijke beslissingen. Werk volgens de wettelijke normen. Bewaar de essentiële informatie van je bedrijf op één centrale, beveiligde en actuele plek, waar je altijd en overal toegang toe hebt.
Clio Grow: krachtige klantenintake voor advocatenkantoren, eenvoudig gemaakt. Het complete platform voor klantenintake en klantrelatiebeheer (CRM) dat de processen, organisatie en groei van het advocatenkantoor stroomlijnt.
Meer informatie op clio.com
Clio - Overzicht
Prijzen
Prijsopties
Prijs-kwaliteitverhouding
---
Clio - Functies
Markten
Verenigde Staten van Amerika, Canada, Verenigd Koninkrijk, Australië
Ondersteunde talen
Engels
Media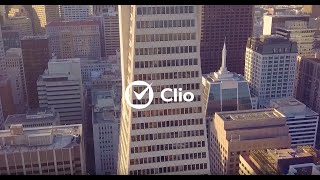 Clio reviews
Clio reviews
Prijs-kwaliteitverhouding
4,6
96%
heeft deze app aanbevolen
My overall experience has been great! They are always making sure to take the next step in integrations and constantly keep their software up to date and secure.
---
If you're not used to a system, this can be made into a good system for you. There are a lot of functions missing--like being able to track time associated with flat fee activities (so you can't track productivity or if you do, you can't print out your billable hours without some discussion to the ethics board). You can track e-mails and phone calls, but not faxes, letters, or text messages. You can set tasks for others that you can update, but the update doesn't get sent to the other person. You can set pop-ups on your calendar for yourself, but not for other people. You can track the budget of a case, but not the running total of transactions or expenses. You can integrate with Quickbooks, but you have to import and export the information--the information does not flow freely between the two. The calendar has all of the same pitfalls as Google Calendar because it is Google calendar but with some functions missing. You can upload and download documents, and you must do that in order to save any changes with Clio (unless you pay for HIPAA-compliant Google Drive Professional). Your receptionist has to separately capture phone messages from your client to you because only you can have conversations. Wandering between the conversations page and the logs page means that you will always end up back in the Matters tab. If you're trying to capture a phone call with a person not in the system you have to exit the phone call and lose all of the information to enter that person before you can save the conversation to a file. It's not customizeable. There are some pros over Amicus but many features I miss (such as being able to track time directly with the phone call, including the time the call was initiated) but it has good parts about it. If you're into nitty-gritty capturing of information and you have the time to invest it can be a good platform but trying to teach established attorneys how to rework their legal practice around it is difficult.
---
Outstanding experience with something for everyone just depending on one's level of interest and need.
---
Support easy super good. Clio fixed problems with non english characters in days, Timemattes did not fix it in 20 years we have been complaining.
Clio has extremely good search features and all sorts of filtering. For instance universal search that goes through matters, contacts, events, notes, tasks, time/expenses logs, documents content, doc, names, and communications (emails, sec. mess, phone log).
clio portal for clients, e sign easy to make form-documents connects to IP phone etc.
Faster law is a must I would say. To make a great package even better we subscribed also to Faster Law which has done a fantastic add on to Clio. There you get tools to capture your time automatically, the programs keeps track on how long you spend working on case files, e mails etc. in different cases and suggests billable time for that. There is a lot more like file handling, better way to link e mails, save and link attachments and files, you can explore your files on Clio's serves in you file explorer.
---
Vergelijk de totaalscore met alternatieven
Vergelijk met alternatieven
Vergelijk gebruikersaanbevelingen met alternatieven
Vergelijk met alternatieven
Prijzen van Clio
Prijzen van Clio
Prijs-kwaliteitverhouding
Vergelijk scores voor prijs-kwaliteitverhouding met alternatieven
Vergelijk met alternatieven
Clio - Functies
Clio - Functies
Gegevens importeren en exporteren
Integratie in de administratie
Rapportage en statistieken
Vergelijk functiescores met alternatieven
Vergelijk met alternatieven
Categorieën
Clio - Veelgestelde vragen
Clio - Veelgestelde vragen
Hieronder zie je enkele veelgestelde vragen over Clio.
V. Welke prijsmodellen heeft Clio te bieden?
Clio kent de volgende prijsmodellen:
Vanaf: US$ 39,00/maand
Prijsmodel: Abonnement
Gratis proef: Beschikbaar
V. Wat zijn de voornaamste functies van Clio?
We hebben geen informatie over functies van Clio
V. Wat zijn de typische gebruikers van Clio?
Clio heeft de volgende typische klanten:
Klein bedrijf, Grote ondernemingen, Non-profit, Freelancers, Middelgroot bedrijf
V. Welke talen worden door Clio ondersteund?
Clio ondersteunt de volgende talen:
Engels
V. Welke prijsmodellen heeft Clio te bieden?
Clio kent de volgende prijsmodellen:
Abonnement
V. Biedt Clio ondersteuning voor mobiele apparaten?
Clio ondersteunt de volgende apparaten:
Android, iPhone, iPad
V. Met welke andere apps kan Clio worden geïntegreerd?
Clio kan worden geïntegreerd met de volgende toepassingen:
Chrometa, FactBox, InvoiceSherpa, Law Ruler, Lexicata, PieSync, Teamleader, Wishpond, Xero, Zapier
V. Welke mate van ondersteuning heeft Clio te bieden?
Clio biedt de volgende ondersteuningsopties:
Kennisbank, Online ondersteuning, Telefonische ondersteuning, Video-instructies