Buildertrend - Overzicht
Wat is Buildertrend?
Buildertrend biedt geavanceerde, cloudgebaseerde software voor projectmanagement. Met bijna 1 miljoen gebruikers over de hele wereld geeft Buildertrend de bouwsector een betere manier om te bouwen. De software van Buildertrend helpt bouwprofessionals bij het creëren van meer projecten en vermindert vertragingen, elimineert communicatiefouten en verhoogt de klanttevredenheid. De functies staan klaar om om elk aspect van het bouwproces te stroomlijnen : van functies voor het begroten, plannen en wijzigen van werkorders tot tools voor klantcommunicatie en documentbeheer.
Elke klant heeft een speciale Buildertrend coach om een gepersonaliseerde, onbeperkte trainingservaring te leveren. Klanten hebben ook onbeperkte toegang tot branding en webdiensten, educatieve webinars, livechat-ondersteuning en een uitgebreid online helpcentrum. Voor meer leren, en als je liever hebt dat hun team naar je toe komt en zij aan zij met jouw bedrijf werkt, biedt het bedrijf ook Buildertrend University op hun hoofdkantoor voor een meeslepende leerervaring of advies ter plaatse.

Buildertrend integreert met andere oplossingen zoals QuickBooks, Xero en essentiële tools voor de start.
Buildertrend - Overzicht
Prijzen
Prijsopties
Prijs-kwaliteitverhouding
---
Buildertrend - Functies
Markten
Verenigde Staten van Amerika, Canada, Verenigd Koninkrijk, Australië, China
en nog 3 andere
, India, Japan, Duitsland
Ondersteunde talen
Engels
Media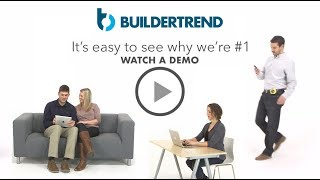 Buildertrend reviews
Buildertrend reviews
Prijs-kwaliteitverhouding
4,4
94%
heeft deze app aanbevolen
I used other CRMs in the past, but love using BuilderTrend. Its simple setup has allowed me to keep track of my customers as well as provide better follow up to my clients. I just utilize the Sales section of BuilderTrend, but it has improved my client relationships and increased my overall sales.
---
Very good.
If youre going to integrate BT make sure you take it on a section at a time. Dont try and open up too many sections to your team
These guys have given a lot of thought to the software and it forms an amazing backbone for any client facing construction business. We couldnt last the day without it.
---
We've always had a great experience with builder trend. If there are any issues help is a few clicks away and usually gets sorted our quite quickly. As mentioned earlier its a shame the pricing is going up as much as it is.
---
We are a boutique custom home builder; each project is unique and personalized. Although I was not involved in the selection of this software, my understanding is that we wanted a program that could be accessed by all the parties involved, handle the scheduling and move us away from paper checklists - ultimately allowing all users to be both informed of changes and to be able to plan for future events without having to directly communicate with each person.
As far as scheduling goes this system has failed. It has caused more time consuming questions. My complaint is that you can only link item to item by a (or a couple) predecessor(s) that, ultimately, the program struggles with which item is next in the list if a few of them share the same linked task. Also in a best case scenario, this scheduled list is how you build a house - but in most cases something, whether it be trade related or whether related or inspection related, cause a task to be delayed but the other ones would continue on schedule however the program has linked the start date to the the delayed task and now the whole calender is messed up. Or perhaps the exterior of the house generally starts after framing and roofing but maybe a winter storm makes this impossible so you continue the interior for weeks. Then you try and adjust backwards and because your best case scenario template stated it should commence at framing completion and you delayed that. Thus your left with a domino affect of wrong dates. and a series of emails sent to vendors informing them of the delay that really didn't apply to them. So they change schedules and you are left with no trades to do the interior work that in your mind could and should be fine.
I also find that the program doesn't offer enough flexibility in the selection section. It allows me to upload a previously created document to be stored that a homeowner could then log on and download. They then fill out and can't re-upload this document, so they are forced to fax or scan and email back to us. This is neither time effective nor practical. Perhaps it would be better if we were able to create a checklist that was interactive in this section, similar to the change orders where we type out the change and the client could update decisions. In our company we don't limit our clients to three choices of floor plans and two cabinet doors and 4 granite selections, they are free to choose anything they can dream of. As a result we cannot load a document that would apply to all builds.
However, I believe the change orders tab is well thought out, easy to use and provides all the options to make it a valuable asset. The warranty section does a great job of tracking and notifying and saving time and assuring that service and warranty items are handled and accepted. The daily log and messaging capabilities that allow us to keep a record of notes or messages in one area logged by date and job site is extremely valuable and a good system.
Furthermore, the software as a whole is easy to learn, has a logical and simple layout so even those who are not computer savvy can fumble through without creating errors and won't be too intimidated by the complexity of the software to attempt to use it.
Finally, the technical support and training provided is always quick to help resolve an issue or aid in a question. New training is scheduled in a very quick time frame for free and is tailored to the person that requires it. This is handled exceptionally well in a time when often companies forget you exist once the purchase is complete.
So, we have decided that we will use BuilderTrend for those things that they excel at and don't use it as a scheduling tool.
---
Vergelijk de totaalscore met alternatieven
Vergelijk met alternatieven
Vergelijk gebruikersaanbevelingen met alternatieven
Vergelijk met alternatieven
Prijzen van Buildertrend
Prijzen van Buildertrend
Prijs-kwaliteitverhouding
Vergelijk scores voor prijs-kwaliteitverhouding met alternatieven
Vergelijk met alternatieven
Buildertrend - Functies
Buildertrend - Functies
Aansturing van onderaannemers
Beheer van wijzigingsorders
Gegevens importeren en exporteren
Integratie in de administratie
Rapportage en statistieken
Vergelijk functiescores met alternatieven
Vergelijk met alternatieven
Categorieën
Buildertrend - Veelgestelde vragen
Buildertrend - Veelgestelde vragen
Hieronder zie je enkele veelgestelde vragen over Buildertrend.
V. Welke prijsmodellen heeft Buildertrend te bieden?
Buildertrend kent de volgende prijsmodellen:
Vanaf: US$ 299,00/maand
Prijsmodel: Abonnement
Gratis proef: Beschikbaar
V. Wat zijn de voornaamste functies van Buildertrend?
We hebben geen informatie over functies van Buildertrend
V. Wat zijn de typische gebruikers van Buildertrend?
Buildertrend heeft de volgende typische klanten:
Klein bedrijf, Grote ondernemingen, Freelancers, Middelgroot bedrijf
V. Welke talen worden door Buildertrend ondersteund?
Buildertrend ondersteunt de volgende talen:
Engels
V. Welke prijsmodellen heeft Buildertrend te bieden?
Buildertrend kent de volgende prijsmodellen:
Abonnement
V. Biedt Buildertrend ondersteuning voor mobiele apparaten?
Buildertrend ondersteunt de volgende apparaten:
Android, iPhone, iPad
V. Met welke andere apps kan Buildertrend worden geïntegreerd?
Buildertrend kan worden geïntegreerd met de volgende toepassingen:
ProEst, QuickBooks Online, QuickBooks Online Advanced, Ryvit, STACK, Square Takeoff, Twitter, Wordpress, Xero, Xero
V. Welke mate van ondersteuning heeft Buildertrend te bieden?
Buildertrend biedt de volgende ondersteuningsopties:
Veelgestelde vragen, Forum, Video-instructies, Online ondersteuning, Telefonische ondersteuning, Kennisbank