Boulevard
Business management software for salons and spas
Over Boulevard
Boulevard is a cloud-based software designed to help salons and spas of all sizes manage bookings, appointments, payments, check-in and out, memberships, sales, and more on a unified portal. The platform enables organizations to define custom rules for scheduling tasks, staff permissions, service categories, and pricing across multiple products, brands, and locations.
Boulevard allows front desk administrators to handle walk-ins and capture customers' contact information via the iPad application and send alerts with arrival time to the assigned service professional. It offers a host of features such as credit and debit card processing, waitlists, appointment confirmation notifications, group booking, tagging, refunds management, barcode scanning, timeclock, and more. Salons can also create, launch, and run marketing campaigns to promote products, categorize clients, and request ratings and feedback.
Boulevard lets managers generate, export, and share reports to gain insights into business performance, client retention, gross sales, tips, utilization of resources, and other metrics. It also supports integration with various third-party client relationship management (CRM) and enterprise resource planning (ERP) systems via API.
Prijzen vanaf:
US$ 175,00/maand
Gratis versie

Gratis proef

Abonnement
Top 5 alternatieven voor Boulevard
Voornaamste voordelen van Boulevard
• On-brand client experience
• Reach out to past-due clients through text, email, or social media
• Keep staff connected with Boulevard's mobile app
• Flexible permissions to compliment staff responsibilities
• Fast, secure, and 100% zero system downtime
Klanten
Freelancers

Kleine bedrijven

(2-50)

Middelgrote bedrijven

(51-500)

Grote ondernemingen

(500 en meer)
Implementatie
Cloudgebaseerd

On-premise
Prijzen vanaf:
US$ 175,00/maand
Gratis versie

Gratis proef

Abonnement
Top 5 alternatieven voor Boulevard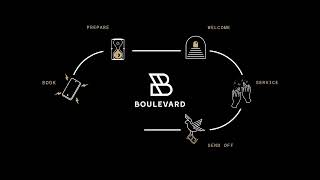 Totaal aantal functies van Boulevard: 79
API
Aandelenbeheer
Aanpasbare branding
Aanpasbare formulieren
Aanpasbare rapporten
Activiteitendashboard
Afspraakplanning
Afsprakenbeheer
Analyse van verkooptrends
Beheer van cadeaubonnen
Beheer van ontvangstbewijzen
Beheer van retailvoorraad
Betalingen verwerken
Bevestigingen/herinneringen
Btw-beheer
E-mailbeheer
E-mailherinneringen
E-mailmarketing
Elektronische betalingen
Elektronische handtekening
Faciliteitsplanning
Factuurbeheer
Feedbackbeheer
Geautomatiseerde planning
Gegevens importeren en exporteren
Groepsplanning
Herinneringen
Inkooporderbeheer
Integraties van derden
Itembeheer
Kalenderbeheer
Kalendersynchronisatie
Kamers reserveren
Klantenaccounts
Klantenbeheer
Klantendatabase
Klantendatabase
Klantenonderzoeken
Klantgeschiedenis
Klantprofielen
Kortingsbeheer
Loyaliteitsprogramma
Mobiele toegang
Multilocatie
Online betalingen
Online reserveren
Orderbeheer
Personeelsbeheer
Personeelsplanning
Plannen
Prestatiemeetwaarden
Provisiebeheer
Rapportage en statistieken
Realtime meldingen
Realtime planning
Reserveringenbeheer
Reserveringsbeheer
Resources plannen
Retail POS
Retourbeheer
Slepen en neerzetten
Sms-berichten
Streepjescodes en tickets scannen
Taakplanning
Terugkerende afspraken
Toegangsopties/machtigingen
Transactiebeheer
Transactiegeschiedenis
Verkooppunt
Verkooprapporten
Verwerking van creditcards
Voor kappers
Voor medische spa's
Voor schoonheidsinstituten en wellnesscenters
Voorraad bijhouden
Voorraadbeheer
Waarschuwingen/Meldingen
Zelfserviceportal
eCommerce-beheer
Acuity Scheduling
#0 alternatief voor Boulevard
Acuity is software voor het 24/7 online plannen van afspraken waarmee klanten zelf online afspraken of lessen kunnen...
Zingle
#1 alternatief voor Boulevard
Zingle is een sms-oplossing die communicatie tussen bedrijven en hun klanten mogelijk maakt via sms, met multi-channel...
Mindbody
#2 alternatief voor Boulevard
Mindbody biedt business management software voor wellnessbedrijven, salons, sportscholen, wellnessprofessionals en...
Square Payments
#3 alternatief voor Boulevard
Square Payments is een online oplossing voor betalingsverwerking die te integreren is met Square-hardware en POS-softwar...
Prijs-kwaliteitverhouding
---
Heb je Boulevard al?
Softwarekopers hebben je hulp nodig! Productreviews helpen anderen om goede beslissingen te nemen.
5 van 219 reviews worden weergegeven
Boulevard - Veelgestelde vragen
Hieronder zie je enkele veelgestelde vragen over Boulevard.
V. Welke prijsmodellen heeft Boulevard te bieden?
Boulevard kent de volgende prijsmodellen:
Vanaf: US$ 175,00/maand
Prijsmodel: Abonnement
Gratis proef: Niet beschikbaar
Boulevard is available across three pricing models, details of which are outlined below: Essentials - $175/month Premier - $225/month Enterprise - Contact Boulevard for pricing details.
V. Wat zijn de typische gebruikers van Boulevard?
Boulevard heeft de volgende typische klanten:
2-10, 11-50, 51-200, 201-500, 501-1.000, 1.001-5.000
V. Welke talen worden door Boulevard ondersteund?
Boulevard ondersteunt de volgende talen:
Engels
V. Biedt Boulevard ondersteuning voor mobiele apparaten?
Boulevard ondersteunt de volgende apparaten:
Android (mobiel), iPhone (mobiel), iPad (mobiel)
V. Met welke andere apps kan Boulevard worden geïntegreerd?
Boulevard kan worden geïntegreerd met de volgende toepassingen:
Google Calendar, Mailchimp, NetSuite, Okta, TrueLark, Vish, Zapier
V. Welke mate van ondersteuning heeft Boulevard te bieden?
Boulevard biedt de volgende ondersteuningsopties:
E-mail/helpdesk, Veelgestelde vragen/forum, 24/7 (contact met medewerker), Chatten
Gerelateerde categorieën
Bekijk alle softwarecategorieën die gevonden zijn voor Boulevard.