UpKeep
Mobiele geautomatiseerde onderhoudsbeheersoftware
Over UpKeep
UpKeep is een cloudgebaseerd CMMS (Computerized Maintenance Management System) ontworpen om te worden gebruikt op mobiele apparaten, en geschikt voor een groot aantal sectoren, waaronder productie, constructie, distributie, warehousing, nutsbedrijven, hotels, restaurants, voedselverwerking, kerken, onderwijs, en meer. Het systeem biedt gebruikers de mogelijkheid om onderhoudsplanning en werkorders onderweg te beheren, met hulpmiddelen voor het maken van werkorders, rangschikken op prioriteit, vastleggen van handtekeningen, annoteren van afbeeldingen, importeren van goederengegevens, scannen van streepjescodes, voorraadbeheer, chat en samenwerking, het maken van facturen en meer.
Met UpKeep kunnen gebruikers aangepaste werkorders creëren voor verschillende doeleinden, zoals het opstellen van checklists en meetwaarden, met behulp van sjablonen en formulieritems. Bestanden, afbeeldingen en onderdelen kunnen allemaal aan taken worden toegevoegd en gebruikers kunnen werkorders prioriteren op basis van urgentie. Werkorders en facturen kunnen in pdf-formaat worden aangemaakt en per e-mail worden verzonden of worden afgedrukt. Goederengegevens kunnen worden geïmporteerd in UpKeep vanuit bestaande dossiers en er kunnen streepjescodes worden toegewezen aan onderdelen of goederen die gescand kunnen worden om ze toe te voegen aan werkorders. Gebruikers kunnen periodieke schema's maken voor preventief onderhoud en afzonderlijke onderdelen reserveren of inplannen om te worden gebruikt voor specifieke werkorders. Voorraad kan worden beheerd op basis van locatie, en doordat de onderdelengeschiedenis wordt bijgehouden kunnen gebruikers zien waar elk onderdeel is gebruikt.
UpKeep stuurt gebruikers automatisch push-meldingen en waarschuwingen in realtime om hen te informeren over updates van taken of problemen met apparatuur. Er kunnen sensoren worden geïntegreerd om realtime monitoring van middelen mogelijk te maken, en gebruikers kunnen triggers instellen om automatisch onderhoudsverzoeken te genereren wanneer specifieke voorwaarden worden bereikt. Meer dan 50 verschillende sensortypes worden ondersteund en gebruikers kunnen gedetailleerde rapporten van sensorgegevens bekijken, zoals vochtigheid, kanteling, temperatuur en meer. Met UpKeep kunnen gebruikers ook samenwerken met realtime in-app-chat voor het bespreken van problemen of het delen van updates, en voor rapporten over voltooide taken, uitgaven en terugkerende problemen.
---
Afbeeldingen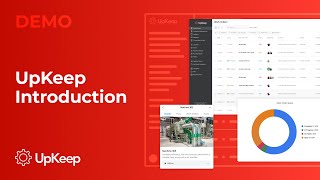 Twijfels over UpKeep?
Vergelijk met een populair alternatief
Niet beschikbaar in jouw land
Prijsopties
Gratis versie
Gratis proefversie
Prijs-kwaliteitverhouding
Synchroteam
#1 alternatief voor UpKeep
Software voor buitendienstbeheer (FSM) om mobiele medewerkers te volgen. Met functies voor planning, dispatch, agenda,...
Hippo Manager
#2 alternatief voor UpKeep
Hippo Manager is een cloudgebaseerd veterinair PiMS voor praktijken van elke omvang of specialistische veterinaire...
ManWinWin
#3 alternatief voor UpKeep
ManWinWin is onderhoudsbeheersoftware die is ontworpen om bedrijven te helpen bij het organiseren, volgen, repareren en...
Asset Essentials
#4 alternatief voor UpKeep
Asset Essentials is een cloudgebaseerde onderhoudsoplossing die is ontwikkeld voor het dagelijkse geavanceerde beheer...
Prijs-kwaliteitverhouding
---
Heb je UpKeep al?
Softwarekopers hebben je hulp nodig! Productreviews helpen anderen om goede beslissingen te nemen.
5 van 1.292 reviews worden weergegeven
UpKeep - Veelgestelde vragen
Hieronder zie je enkele veelgestelde vragen over UpKeep.
V. Welke prijsmodellen heeft UpKeep te bieden?
UpKeep kent de volgende prijsmodellen:
Vanaf: US$ 45,00/maand
Prijsmodel: Gratis versie, Abonnement
Gratis proef: Beschikbaar
V. Wat zijn de typische gebruikers van UpKeep?
UpKeep heeft de volgende typische klanten:
Zelfstandig ondernemer, 2-10, 11-50, 51-200, 201-500, 501-1.000, 1.001-5.000
V. Welke talen worden door UpKeep ondersteund?
UpKeep ondersteunt de volgende talen:
Chinees, Engels, Frans, Spaans
V. Biedt UpKeep ondersteuning voor mobiele apparaten?
UpKeep ondersteunt de volgende apparaten:
Android (mobiel), iPhone (mobiel), iPad (mobiel)
V. Met welke andere apps kan UpKeep worden geïntegreerd?
UpKeep kan worden geïntegreerd met de volgende toepassingen:
Azuga Fleet, ClearBlade, Coupa, Linxup, Looker, Microsoft Azure, Microsoft Excel, Microsoft Power BI, Microsoft Teams, Mingo, Motive, Okta, One Step GPS, OneLogin, Procore, QuickBooks, Samsara, Slack, Tableau, Titan GPS, Workato, Xero, Zapier, Zendesk Suite
V. Welke mate van ondersteuning heeft UpKeep te bieden?
UpKeep biedt de volgende ondersteuningsopties:
E-mail/helpdesk, Veelgestelde vragen/forum, Kennisbank, Telefonische ondersteuning, 24/7 (contact met medewerker), Chatten
Gerelateerde categorieën
Bekijk alle softwarecategorieën die gevonden zijn voor UpKeep.