DELMIAworks
Geïntegreerde ERP-oplossing voor de productie
Over DELMIAworks
De ERP voor productie van Enterprise IQ biedt een geïntegreerd ERP- en productiesysteem dat bijna alle functies omvat die nodig zijn voor het runnen van een fabrieksvloer. De toepassing biedt totale controle over alle aspecten van de productie, van supply chain management tot productieprocessen, evenals planning, salarisadministratie en boekhouding.
De ERP voor productie biedt gebruikers één enkele, geïntegreerde gebruikersinterface van waaruit een breed scala aan productiefuncties kan worden bestuurd. De toepassing beschikt ook over kostenanalysetools om fabrikanten te helpen het end-to-end rendement in het hele bedrijf te verbeteren.
De ERP voor productie beschikt over integratie met Oracle-database en Microsoft Office. Er is ook een aanpasbaar rendement, en oplossingen kunnen in overleg met IQMS verder worden aangepast aan unieke bedrijfsactiviteiten.
---
Afbeeldingen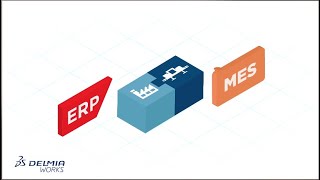 Twijfels over DELMIAworks?
Vergelijk met een populair alternatief
Beginprijs
Geen prijsinformatie gevonden
Geen prijsinformatie gevonden
Prijsopties
Gratis versie
Gratis proefversie
Prijs-kwaliteitverhouding
NetSuite
#1 alternatief voor DELMIAworks
NetSuite is een toonaangevende cloudgebaseerde ERP-oplossing die wordt vertrouwd door meer dan 32.000 snelgroeiende...
QuickBooks Desktop Enterprise
#2 alternatief voor DELMIAworks
QuickBooks Enterprise is boekhoudsoftware voor kleine bedrijven die gebruikers realtime toegang biedt tot informatie...
Epicor Advanced MES
#3 alternatief voor DELMIAworks
Epicor Manufacturing Express Edition is een uitgebreide ERP-oplossing voor werkwinkels en kleine fabrikanten die wordt...
Global Shop Solutions
#4 alternatief voor DELMIAworks
We simplify your manufacturing.™ (We vereenvoudigen je productie). Ervaar realtime voorraadnauwkeurigheid, verhoogde...
Prijs-kwaliteitverhouding
---
Heb je DELMIAworks al?
Softwarekopers hebben je hulp nodig! Productreviews helpen anderen om goede beslissingen te nemen.
5 van 288 reviews worden weergegeven
Totaalscore
Gebruiksgemak

Klantenondersteuning
EnterpriseIQ - The Ultimate ERP Solution
Beoordeeld op 28-6-2010
I would highly recommend EnterpriseIQ. The staff at IQMS is a pleasure to work with and extremely...
I would highly recommend EnterpriseIQ. The staff at IQMS is a pleasure to work with and extremely accessible. IQMS listens to their users and allow them to have a great amount of input into enhancements to EnterpriseIQ. When there is a question as to how users feel about an enhancement that another user suggests, it is put to a user vote. This is done online so that users don't have to wait until a user group meeting to vote. IQMS hosts Users Group meetings that are very informative and helpful for networking with other users. With many tools that IQMS has provided to their users, users can easily pose questions to a user forum and get a quick response. EnterpriseIQ is a great ERP solution that should not be passed by!
Pluspunten
EnterpriseIQ provides a full ERP system including a payroll module. There is no need to use 3rd party software to transfer/link labor time & attendance to payroll. MRP is easy to use and provides users with real-time availability and requirements through the use of finite scheduling. Powerful reports can be created through the use of Crystal Reports. Files can be linked with ease providing users with exactly what they want/need to be on "their" custom report. Bill of Materials are complete as they contain cycle time, labor, work center and materials required. A Preventative Maintenance module can track Tooling and Equipment usage and generate service work orders based on cycle counts or routine tasks. Each module allows attachment of documents, either Internal notes or External documents maintained through their Quality Module in Document Control. IQMS provides excellent customer support and welcomes user input as to the development & enhancement of their software.
Minpunten
The only issue that we have had with EnterpriseIQ is trying to integrate biometric fingerprint readers to use as our means of collecting attendance. The time clock capture is easy to use, however, there is no way to validate if an employee is clocking themselves in/out and/or a co-worker in/out.
Sector: Plastics en kunststoffen
Bedrijfsgrootte: 51-200 werknemers

Dagelijks

2+ jaar

lang gebruikt
Bron van de reviewer
Totaalscore
Prijs-kwaliteitverhouding

Gebruiksgemak

Klantenondersteuning

Waarschijnlijkheid van aanbeveling

6.0

/10
IQMS can be a powerful tool for maintaining the information and processes that drive a...
Beoordeeld op 1-11-2017
IQMS might benefit from better scaling on their pricing to encourage deeper adoption of the...
IQMS might benefit from better scaling on their pricing to encourage deeper adoption of the software. The more heavily integrated a business is with IQMS, the less likely that business is to switch to using a competing software solution.
Pluspunten
The features that IQMS has are all fairly well developed and mature. Support staff can be incredibly helpful and knowledgeable. There are a wide array of software modules with highly configurable settings to cover most production situations for a diverse array of firms.
Minpunten
IQMS implementation specialists can leave a lot to be desired. Many essential features of our install were never configured or were configured incorrectly. To that extent IQMS is highly reliant on companies having individuals with high aptitudes for trouble shooting and problem solving. If your company has this sort of talent, it can be an incredibly helpful software suite. Without that baseline expertise or talent, IQMS can hurt more than it helps. Additionally, the licensing for IQMS is quite expensive, which can make implementing the full range of software impossible. For some companies, modules like RealTime Production monitoring will never be cost effective, and other software features of IQMS are hamstrung by an absence of crucial pieces like RealTime. Because of the way that IQMS' business logic is designed, businesses will necessarily need to make some changes to the way they operate to bring them more into line with the best practices set up by IQMS. Unfortunately, the exact nature of these best practices and the gaps in an individual business' adoption of these best practices is not well specified by IQMS.
Totaalscore
Gebruiksgemak

Klantenondersteuning
Beoordeeld op 20-2-2013
Our company walked their sales team through our current system and thoroughly spelled out our...
Our company walked their sales team through our current system and thoroughly spelled out our needs. The sales representative claimed to identify the modules we would need to transition in a way we mutually agreed made sense, but as soon as we signed up we were told by the implementation team we needed to buy more modules to maintain the basic functions the sales representative claimed he had already spec'd out with us.
Further, while we insisted on having the implementation specialist assigned before hand so we could check his background. They assigned a person that had a strong background, but when he arrived it was revealed that he was far too busy with other clients to work on our implementation, so they reassigned him and put someone on that has been with their company about a year.
The software has its strengths and we are still trying to push through implementation. If you have the talent and experience in house to spec out exactly what modules you need and implement them the software might be a fit for you, but if you are going to be relying heavily on their implementation team you may want to look elsewhere.
Antwoord van Dassault Systemes
Thank you for your review and comments on EnterpriseIQ and IQMS. Our customer satisfaction is very important to us, is unmatched in the industry and is our highest source of referrals for new clients. We find it unfortunate that you feel as though you have been slighted in this respect. As such, please allow us to respond to your concerns.

When we recommend initial purchase modules to clients, we attempt to match communicated needs as well implementation resources and time frames. This provides the client what they need and want to begin their implementation but doesn't overburden their budgets. In the conversations with your company in the last few months, there has been no indication that more modules are required nor requested. We are more than happy to assist in assessing where additional functionality might be needed that wasn't previously indicated.

In regards to the implementation specialists, our historical summary of emails and communication shows both attempted and answered responses. We have been actively working with you on the subject of your assigned specialist and did change out your initial assignee based on your request to have someone available more frequently. While the replacement had been at our company less than a year, all our implementation specialists are manufacturing professionals that go through a rigorous training and certification period before being assigned to any clients. We had hoped this, in conjunction with the account credit we provided you, would show our eagerness to accommodate your needs.

We thank you for highlighting that our software has strengths. We appreciate that since we work hard to make it industry specific and developed with client feedback. However, as we stated initially, we strive to make all our clients happy. After repeated conversations, with multiple department managers, we are willing to offer a full refund, should that be your choice.
Dagelijks

2+ jaar

lang gebruikt
Bron van de reviewer
Totaalscore
Prijs-kwaliteitverhouding

Gebruiksgemak

Klantenondersteuning
If users are prepared to put in the upfront work into IQMS it will be a great asset to your...
Beoordeeld op 15-9-2017
Pluspunten
The depth and breadth of the program is impressive. I like the flexibly of use from a small section of manufacturing process, to using it fully from quoting, production and quality testing. Consistency but continued expansion of the IQMS program is appreciated (I am a user since 2004). Help desk can be very responsive when it comes to problems/questions arising. If it is a major problem they will `take you by the hand solve it with you. With the interface I appreciate the ability to jump from window to window to window. I also appreciate it is a multi-window program.
Minpunten
The structure of the database not being directly linked to the naming scheme of the interface can be frustrating when creating reports or finding problems. The structure of security section is hard to manage (groups and sections instead of individual profiles and direct security approvals). Not being able to easily substitute alternative items in the BOMs/Work orders can be a hindrance to accurate consumption. Also the structure of the consumption can be awkward.
If a change is needed to the program a committee gathers once a year to vote on the focus of the upgrades and improvements, is the process to update errors to the computer system, instead of a more instant solution (though if it is obvious they will fix it sooner).
Totaalscore
Gebruiksgemak

Klantenondersteuning
IQMS ERP Review
Beoordeeld op 31-8-2010
We are very satisfied with our decision to implement IQ. After an intense benchmarking/evaluation...
We are very satisfied with our decision to implement IQ. After an intense benchmarking/evaluation process, IQ finished far above other options. We implemented all mission critical business processes in a very short 5 months given the number of data bases we were using to run our business. I frequently remark that there are 2 or 3 ways to accomplish a task/objective utilizing IQ and our responsibility is to select the method that works best for our current systems/processes. This still holds true today as we continue to expand implementation of the existing modules IQ has to offer while concurrently incorporating new functionality typically recommended by the User community and incorporated into the software via frequent updates.
In many respects, we have only scratched the surface of what IQ has to offer. As our business grows and requirements change, were confident that we selected the best software provider available to help us accomplish our objectives.
Pluspunten
IQ is a feature rich/constantly evolving ERP system-handling mission critical/multi-plant business processes, eliminating multiple points of data entry and the associated errors
IQAlert e-mailed exception reports-employees can focus on meeting customer needs
EDI is fully integrated, not a third party solution-allowing us to work as part of a team with IQ and our customers to improve performance results
WMS insures data integrity-provides instant visibility to inventory, enabling employees to virtually eliminate product/quantity shipping errors
MRP engine is like greased lightning-IQAlert scheduled 6 times/day-runs in < 3.5 minutes
Capable to Promise-enables us to provide information to customers during initial contact vs call back later
IQ User Group-refreshing collection of super users sharing knowledge/experience
IQ employees from top to bottom-knowledgeable, very receptive to requests for software enhancements if ultimately the best solution
Minpunten
Employees that are not fully engaged sometimes have difficulty understanding and/or utilizing the efficiencies inherent in IQ. However, several cost and time effective training options are available that range from learning basic navigation/software capability skills thru expanding knowledge of application specific IQ functionality.
Security Administration can be fairly complex and cumbersome to maintain, especially after software updates although there has been recent improvement in this area.
DELMIAworks - Veelgestelde vragen
Hieronder zie je enkele veelgestelde vragen over DELMIAworks.
V. Welke prijsmodellen heeft DELMIAworks te bieden?
DELMIAworks kent de volgende prijsmodellen:
Vanaf:
Gratis proef: Niet beschikbaar
V. Wat zijn de typische gebruikers van DELMIAworks?
DELMIAworks heeft de volgende typische klanten:
2-10, 11-50, 51-200, 201-500, 501-1.000
V. Welke talen worden door DELMIAworks ondersteund?
DELMIAworks ondersteunt de volgende talen:
Chinees, Chinees, Duits, Engels, Frans, Iers, Italiaans, Nederlands, Spaans, Tsjechisch
V. Biedt DELMIAworks ondersteuning voor mobiele apparaten?
DELMIAworks ondersteunt de volgende apparaten:
V. Met welke andere apps kan DELMIAworks worden geïntegreerd?
DELMIAworks kan worden geïntegreerd met de volgende toepassingen:
Microsoft 365, Oracle Eloqua Marketing Automation
V. Welke mate van ondersteuning heeft DELMIAworks te bieden?
DELMIAworks biedt de volgende ondersteuningsopties:
E-mail/helpdesk, Veelgestelde vragen/forum, Kennisbank, Telefonische ondersteuning, Chatten
Gerelateerde categorieën
Bekijk alle softwarecategorieën die gevonden zijn voor DELMIAworks.