Cin7
Alles-in-één cloudgebaseerde inventaris, POS, EDI, B2B en 3PL
Over Cin7
Cin7 is het geautomatiseerde platform voor voorraadbeheer voor merken die hun omzet verhogen tot meer dan $ 1 miljoen. Cin7 synchroniseert hun voorraad met verkoop en bestellingen op elk fysiek en online verkoopkanaal en automatiseert de bestelprocessen voor grotere efficiëntie. Cin7 is niet ideaal voor bedrijven in de sector van verhuur of vermogensbeheer. Merken die producten verkopen of distribueren, gebruiken Cin7 om de kosten laag te houden, de marges en cashflow hoog te houden en de voorraad op het juiste niveau te houden.
Prijzen vanaf:
US$ 295,00/maand
Gratis versie

Gratis proef

Abonnement
Top 5 alternatieven voor Cin7
Klanten
Freelancers

Kleine bedrijven

(2-50)

Middelgrote bedrijven

(51-500)

Grote ondernemingen

(500 en meer)
Implementatie
Cloudgebaseerd

On-premise
Markten
Australië, Brazilië, Canada, China, Duitsland , Verenigd Koninkrijk, India, Japan, Mexico, Nieuw-Zeeland, Verenigde Staten en nog 6 andere
Prijzen vanaf:
US$ 295,00/maand
Gratis versie

Gratis proef

Abonnement
Top 5 alternatieven voor Cin7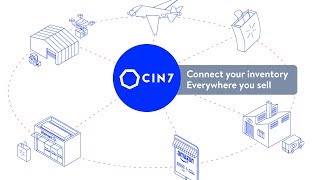 Totaal aantal functies van Cin7: 137
3PL-beheer
API
AS2-protocol
Aandelenbeheer
Aanpasbare branding
Aanpasbare rapporten
Aanpasbare sjablonen
Aanpasbare velden
Activiteitendashboard
Afbetalingsbeheer
Analyse van verkooptrends
Applicatiebeheer
Archiveren en retentie
Backorderbeheer
Beheer van cadeaubonnen
Beheer van meerdere kanalen
Beheer van productievoorraad
Beheer van retailvoorraad
Beheer van speciale bestellingen
Bestellingen automatiseren
Bestellingen bijhouden
Betalingen verwerken
Bewaking
Btw-beheer
CRM
Catalogiseren/categoriseren
Contactendatabase
Contentbeheer
Databaseondersteuning
Distributiebeheer
Drukken van streepjescodes
E-mailbeheer
E-mailmarketing
EDI
Elektronische betalingen
Etiketten drukken
Etikettering
Factureren
Factuurbeheer
Gegevens importeren en exporteren
Gegevensbeveiliging
Gegevenssynchronisatie
Gegevenstransformatie
Geïntegreerde bedrijfsvoering
Herinneringen
Import- en exportbeheer
In- en uitchecken
Inkoop en ontvangst
Inkoopbeheer
Inkooporderbeheer
Integratie in de administratie
Integraties van derden
Inventarisatie
Itembeheer
Kanaalbeheer
Kitting
Klantenaccounts
Klantenbeheer
Klantendatabase
Klantgeschiedenis
Kortingsbeheer
Kosten bijhouden
Kwaliteitsbeheer
Leveranciersbeheer
Loyaliteitsprogramma
Maatwerk
Magazijnbeheer
Marktplaatsintegratie
Materiaallijsten
Meerdere valuta's
Meerdere winkels
Mobiele toegang
Multilocatie
Nabestellingbeheer
Offertes
Offline toegang
Ondersteuning voor meerdere indelingen
Ontvangst- en wegzetbeheer
Orderbeheer
Orderinvoer
Orders afhandelen
Orderverwerking
Postorder
Productidentificatie
Prognose
Projectbeheer
Promotiebeheer
Provisiebeheer
QuickBooks-integratie
Rapportage en analyse
Rapportage en statistieken
Realtime analyse
Realtime controle
Realtime gegevens
Realtime rapportage
Realtime synchronisatie
Realtime updates
Retail POS
Retourbeheer
SEO-beheer
SKU- en UPC-codes
Sales- en operationsplanning
Serienummers volgen
Sjablonen
Slepen en neerzetten
Status bijhouden
Streepjescodeherkenning
Streepjescodes en tickets scannen
Streepjescodes/RFID
Supply-chainbeheer
Terugkerende orders
Toegangsopties/machtigingen
Transactiegeschiedenis
Uitzonderingenbeheer
Verkooporders
Verkoopprognose
Verkooppunt
Verkooprapporten
Vervoersbeheer
Verwerking van creditcards
Verzendetiketten
Voor B2B
Voor de detailhandel
Voorraad bijhouden
Voorraad bijvullen
Voorraadauditing
Voorraadbeheer
Voorraadbeheersysteem
Voorraadoptimalisatie
Voorspellen van de vraag
Waarschuwingen/Meldingen
Websitebeheer
Werkstroomplanner
Winkelwagen
Workflowbeheer
Zoeken/filteren
NetSuite
#1 alternatief voor Cin7
NetSuite is een toonaangevende cloudgebaseerde ERP-oplossing die wordt vertrouwd door meer dan 24.000 snelgroeiende...
Unleashed
#2 alternatief voor Cin7
Unleashed is een webgebaseerd systeem dat is ontworpen voor bedrijven om hun voorraadniveaus en inventaris te beheren.
DEAR Systems
#3 alternatief voor Cin7
DEAR Inventory is een cloudgebaseerde applicatie voor inventaris- en orderbeheer voor het MKB en biedt een complete...
QuickBooks Commerce
#4 alternatief voor Cin7
TradeGecko biedt krachtige inventaris- en orderbeheersoftware voor multi-channel merken, snelgroeiende e-commerce en...
Prijs-kwaliteitverhouding
---
Heb je Cin7 al?
Softwarekopers hebben je hulp nodig! Productreviews helpen anderen om goede beslissingen te nemen.
Schrijf een review!
5 van 511 reviews worden weergegeven
Cin7 - Veelgestelde vragen
Hieronder zie je enkele veelgestelde vragen over Cin7.
V. Welke prijsmodellen heeft Cin7 te bieden?
Cin7 kent de volgende prijsmodellen:
Vanaf: US$ 295,00/maand
Prijsmodel: Abonnement
Gratis proef: Beschikbaar
V. Wat zijn de typische gebruikers van Cin7?
Cin7 heeft de volgende typische klanten:
2-10, 11-50, 51-200, 201-500, 501-1.000, 1.001-5.000
V. Welke talen worden door Cin7 ondersteund?
Cin7 ondersteunt de volgende talen:
Engels
V. Biedt Cin7 ondersteuning voor mobiele apparaten?
Cin7 ondersteunt de volgende apparaten:
Android (mobiel), iPhone (mobiel), iPad (mobiel)
V. Met welke andere apps kan Cin7 worden geïntegreerd?
Cin7 kan worden geïntegreerd met de volgende toepassingen:
3PL Warehouse Manager, Adobe Commerce, Afterpay, Authorize.Net, BigCommerce, Capsule, EVO Payments, Google Drive, Inventory Planner, JAS 7.6, JOOR, Mailchimp, Maropost Commerce Cloud, Marsello, Microsoft Excel, NuORDER, OFX USForex, Online Auction System, PayPal, Payability, Prospect CRM, QuickBooks Online Advanced, Quickbooks Online, Salesforce Sales Cloud, Senter, ShipBob, ShipHero, ShipStation, Shipedge, Shipfusion, Shippit, Shiptheory, Shipwire, Shopify, Starshipit, StockTrim, Streamline, Stripe, SyncHub, TransferMate, Windcave, WooCommerce, Wufoo, Xero
V. Welke mate van ondersteuning heeft Cin7 te bieden?
Cin7 biedt de volgende ondersteuningsopties:
E-mail/helpdesk, Veelgestelde vragen/forum, Kennisbank, Telefonische ondersteuning, 24/7 (contact met medewerker), Chatten
Gerelateerde categorieën
Bekijk alle softwarecategorieën die gevonden zijn voor Cin7.