MyTime
Platform voor afspraakplanning, POS en klantenbinding
Over MyTime
MyTime is een volledig geïntegreerd platform voor planning, verkooppunt en klantenbinding voor ketens met meerdere locaties en franchises, en is ontworpen om bedrijven te helpen met groeien, plannen en het behouden van klanten.
MyTime heeft alle tools die bedrijven nodig hebben onder één dak: een uitgebreide afsprakenplanner, CRM (Customer Relationship Management), e-mailmarketing, online adverteren en aanwezigheidsbeheer, verkooppunt en meer. MyTime is ontworpen voor bedrijven van elke omvang, van eenmanszaken tot nationale franchises. Gebruikers hebben toegang tot MyTime op het web of onderweg via iPhone- en Android-apps.
Het planning- en bedrijfsplatform van MyTime kan ook worden geïntegreerd met de populaire Marketplace, waar miljoenen klanten zoeken naar lokale bedrijven en ook reviews, beschrijvingen en prijzen bekijken en in realtime boeken. MyTime werkt ook samen met Google, Facebook, YP.com, Local.com en andere, waardoor bedrijven beter zichtbaar worden en gemakkelijker te vinden zijn voor nieuwe klanten.
Prijzen vanaf:
US$ 74,00/maand
Markten
Verenigde Staten van Amerika
Ondersteunde talen
Engels
Prijzen vanaf:
US$ 74,00/maand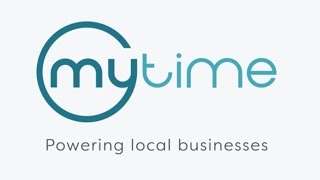 Totaal aantal functies van MyTime: 68
API
Aangepaste formulieren
Aangepaste velden
Aanpasbare branding
Aanpasbare rapportage
Aanpasbare sjablonen
Aanwezigheid bijhouden
Activiteitendashboard
Afsprakenbeheer
Audittrail
Automatische meldingen
Beheer van e-mailmarketing
Beheer van ontvangstbewijzen
Bewaking
Btw-beheer
Chatten
Dossierbeheer
E-mailsjablonen
E-mailuitnodigingen en -herinneringen
Eenmalige aanmelding
Elektronische betalingen
Evenementplanning
Faciliteitsplanning
Geautomatiseerde facturering
Geautomatiseerde planning
Gebruikersbeheer
Gefilterde weergaven
Gegevens importeren en exporteren
Gegevenssynchronisatie
Herinneringen
Instant Messaging
Instructeurplanning
Integratie van sociale media
Kalenderbeheer
Kalendersynchronisatie met Google
Kassasysteem
Klantenbeheer
Klantendatabase
Klasplanning
Kortingsbeheer
Markeren
Multilocatie
Op rollen gebaseerde toestemmingen
Overuren bijhouden
Overurenberekening
Payrollbeheer
Promotiebeheer
Provisiebeheer
Provisieberekeningen
Rapportage en statistieken
Realtime gegevens
Realtime rapportage
Reserveringsbeheer
SEO-beheer
Scores en reviews
Sjabloonbeheer
Sms-intgratie
Toegangsbeheer
Toestemmingsbeheer
Verkoop bijhouden
Verkooprapportage
Verwerking van ACH-betalingen
Visuele analyse
Voorraad bijhouden
Voorraadbeheer
WYSIWYG-editor
Waarschuwingen / Escalatie
Zoekfunctionaliteit
FlexBooker
#1 alternatief voor MyTime
The Beautifully Simple, Fast, and Powerful way to Accept Online Bookings, right from your own website. Also includes...
10to8
#2 alternatief voor MyTime
Gratis software voor online boeken en afspraakplanning geliefd bij meer dan 50.000 bedrijven wereldwijd. Verminder...
Setster
#3 alternatief voor MyTime
Setster is een intuïtieve planningsoplossing die bedrijven in staat stelt om lussen en processen te sluiten via een...
Agendize
#4 alternatief voor MyTime
Agendize is een cloudgebaseerde oplossing voor afspraakplanning en klantenbinding met CRM, livechat,...
Prijs-kwaliteitverhouding
---
Heb je MyTime al?
Softwarekopers hebben je hulp nodig! Productreviews helpen anderen om goede beslissingen te nemen.
Schrijf een review!
5 van 109 worden weergegeven
Sector: Administratie
Bron van de reviewer
Totaalscore
Prijs-kwaliteitverhouding

Gebruiksgemak

Klantenondersteuning
Love this company!
Beoordeeld op 20-11-2015
I've been with MyTime for about a month now and have been thoroughly impressed with this company. ...
I've been with MyTime for about a month now and have been thoroughly impressed with this company. Their customer service is phenomenal! They have a quick link to send feedback on the app/software that makes it easy to either report an issue or suggest a feature. I've submitted several ideas and had a couple of glitches and have been pleasantly surprised to either receive a response by email or even a telephone call! MyTime has literally called me four or five times to discuss either my ideas or understand a small issue I'm experiencing. Who does that anymore?! I love it! I have direct phone numbers and email address to real people who answer the phone. Awesome.
I could go on forever about the customer service but I actually love the software and app as well!
App: We have tried several different scheduling software options only to find that none of them could form to what we need for our home based business or they didn't have a mobile app to use on the go. We own an on the go business with no store front so 100% of our customer interaction is in their homes or through technology. With the app we can schedule appointments and input client information, call and message clients and check out analytic info.
The software adds that much more to the software possibility. You can customize automatic, and professional looking emails/text messages to be sent as reminders or thank yous. You can ask for reviews automatically. You can check on the customers profile to see what type of communication they've received through the app. You can also schedule employees and easily manage their time.
I don't know a lot about how this works, but each time you schedule on MyTime it helps with SEO. They do stuff to help you show up better in the search engine...I don't know all the details but it sounded really good for small business trying to get their names out there :)
There's plenty more that can be said, but just experience it for yourself. You wont be disappointed!
Pluspunten
User friendly. App runs pretty quickly for scheduling. Reschedule button, quick call and mapping at the touch of a button. Message customers from app. Exceptional customer service.
Minpunten
I would love a widget to see my calendar at a glance (they said they are in the process of creating this) and It would be awesome to color coordinate appointments by type and color coordinate blocked out time.
Sector: Hoger onderwijs
Bedrijfsgrootte: 501-1.000 werknemers

Dagelijks

2+ jaar

lang gebruikt
Bron van de reviewer
Totaalscore
Prijs-kwaliteitverhouding

Gebruiksgemak

Waarschijnlijkheid van aanbeveling

8.0

/10
One of the best time management applications out there
Beoordeeld op 30-11-2018
Pluspunten
I've been using My Time for as long as I can remember to manage everything from work to personal life.
Its very easy to use, both as a newbie and an experienced user.
Brilliant price point, compared to other applications that offer similar features this is a steal!
My Time also integrates very well with other applications, such as Google and Facebook, allowing me to sync contacts across services.
Both the desktop and mobile applications work very well, offering basically the same user-experience across various devices.
Minpunten
Over time some of the free features of My Time have been moved to only be available to premium users.
The frequency in which they release bug fixes is pretty terrible, there are some bugs that were reported some time ago that still haven't been fixed!
Sector: Gezondheid, wellness en fitness
Bedrijfsgrootte: 11-50 werknemers

Dagelijks

1-5 maanden

lang gebruikt
Bron van de reviewer
Totaalscore
Gebruiksgemak

Klantenondersteuning

Waarschijnlijkheid van aanbeveling

1.0

/10
Shady business practices, unknowledgeable staff, glitchy system
Beoordeeld op 11-12-2018
The sales rep was extremely pushy when convincing me to subscribe to MyTime and was so confident...
The sales rep was extremely pushy when convincing me to subscribe to MyTime and was so confident that it would suit my needs after describing in precise detail what I needed. They should have never taken me as a client because it doesn't function well at all for what we need. I would be fine with the workarounds that were suggested to me if they worked, but they don't. Services that should be available becasue I have it set up perfectly will just randomly disappear. My clients see our marketing dollars at work and call wanting to sign up, but say that it looks like the appointments are booked up. The sales rep convinced me to sign up during my high season, promising that I wouldn't get charged until I actually started using the system. And promised that if I decided it wasn't a good solution for me, he'd have "no problem" getting me out of the contract. I started getting charged for MyTime LONG before I was ready to even begin setting it up. And I reached out to that sales rep for help, and he was no longer with the company. Not only did the MyTime staff not hold up the promises of their sales rep they employed, but they also agreed that I made a terrible mistake by believing him. The customer service is terrible and the system is glitchy. They don't care that they've cost my business thousands of dollars..... just awful.
Pluspunten
I like the look and user friendliness of the widget on our website.
Minpunten
The system is glitchy. Doesn't have the functionality promised by sales rep. It's complicated.
Antwoord van MyTime
We apologize for the experiences that you've had with our software. We take customer feedback seriously and are always striving to improve.
We hope that providing 17 locations to you for the price of one and crediting 2 months of your subscription to help you through your slow season is a show of goodwill.
We have thousands of locations successfully using MyTime and will offer you continued support to hope to count you in that group.
Dagelijks

2+ jaar

lang gebruikt
Bron van de reviewer
Totaalscore
Prijs-kwaliteitverhouding

Gebruiksgemak

Klantenondersteuning

Waarschijnlijkheid van aanbeveling

10.0

/10
I can't say enough good things about my time. They are so present in ready to offer Solutions&...
Beoordeeld op 2-4-2018
I truly believe that my time is on my side they want to see me when and want my business to thrive....
I truly believe that my time is on my side they want to see me when and want my business to thrive. I love how the CEO will chime in to get clarity from me firsthand. #priceless
Pluspunten
Everything that I could think of to be helpful for me and my business, my time is already thought of. And if they have not and I made the suggestion nine times out of 10 is implemented within that week.
Minpunten
As their business evolves some things that were free in the beginning now cost money. For example it used to be free to call in for support but because I don't have the package that includes phone support I have to email / chat for support. Which is not a major issue but I did like in the past that I could just call
Dagelijks

6-12 maanden

lang gebruikt
Bron van de reviewer
Totaalscore
Prijs-kwaliteitverhouding

Gebruiksgemak

Klantenondersteuning

Waarschijnlijkheid van aanbeveling

10.0

/10
Happy to have made the switch
Beoordeeld op 5-4-2018
Pluspunten
First learned about MyTime in 2013 when I was first starting my business in LA and so were they. They helped us in promoting our off-peak times which kept us pretty booked during those slow hours. We parted for a while as our booking software then was not compatible with them and we were getting double booked which was a great problem until clients start complaining about it :P
Once they had scheduler in place, we went back and was very happy that most of our data was properly ported. MyTime overall is very user-friendly and you could actually figure out most functions on your own. I love the communicator feature and the automated reminders. the rest of the team are very helpful and that makes the whole experience 100x better.
Minpunten
Notes do not save separately so when you have several notes about a client, you would end up with one long note. Not a biggie - but would be nice to see this improved.
MyTime - Veelgestelde vragen
Hieronder zie je enkele veelgestelde vragen over MyTime.
V. Welke prijsmodellen heeft MyTime te bieden?
MyTime kent de volgende prijsmodellen:
Vanaf: US$ 74,00/maand
Prijsmodel: Abonnement
Gratis proef: Niet beschikbaar
V. Wat zijn de voornaamste functies van MyTime?
We hebben geen informatie over functies van MyTime
V. Wat zijn de typische gebruikers van MyTime?
MyTime heeft de volgende typische klanten:
Klein bedrijf, Grote ondernemingen, Middelgroot bedrijf
V. Welke talen worden door MyTime ondersteund?
MyTime ondersteunt de volgende talen:
Engels
V. Biedt MyTime ondersteuning voor mobiele apparaten?
MyTime ondersteunt de volgende apparaten:
Android, iPhone, iPad
V. Met welke andere apps kan MyTime worden geïntegreerd?
MyTime kan worden geïntegreerd met de volgende toepassingen:
Facebook, Google Calendar, Google Maps, Instagram, Microsoft Outlook, QuickBooks Online, QuickBooks Online Advanced
V. Welke mate van ondersteuning heeft MyTime te bieden?
MyTime biedt de volgende ondersteuningsopties:
Online ondersteuning, Telefonische ondersteuning, Kennisbank, Veelgestelde vragen
Gerelateerde categorieën
Bekijk alle softwarecategorieën die gevonden zijn voor MyTime.