QuickBooks - Overzicht
Wat is QuickBooks?
QuickBooks is complete software voor enterprisemanagement en -evaluatie waarmee gebruikers hun volledige financiële portefeuille kunnen coördineren. Gebruikers kunnen alle inkomende en uitgaande verkopen bekijken, voorraden bijhouden, loonadministratie beheren, belastingbetalingen verwerken, distributie coördineren, allemaal via één mobielvriendelijk dashboard. Online ondersteuning en video-tutorials zijn beschikbaar om gebruikers te helpen en on-call QuickBooks-teamleden zijn beschikbaar om te helpen vanaf de eerste installatie tot voortdurende vragen. QuickBooks wordt compleet geleverd met 3 aanpasbare pakketten en een gratis proefversie van 30 dagen.
Met QuickBooks kunnen gebruikers overal werken op meerdere apparaten. Gebruikers kunnen hun boekhouding openen en beheren vanaf hun computer, laptop, tablet of smartphone wanneer ze maar willen, en toegangsrechten creëren zodat collega's of accountants kunnen inloggen en online met hun gegevens kunnen werken. Gebruikers kunnen ook aangepaste online facturen opmaken en verzenden vanaf elk apparaat. De QuickBooks Online Mobile-app slaat automatisch gegevens op in de cloud en synchroniseert tussen apparaten, waardoor het eenvoudig is om zakelijke taken onderweg te beheren. Andere belangrijke functies omvatten het bijhouden van onkosten, boekhoudrapporten en cashflowbeheer. QuickBooks ondersteunt ook automatische back-ups en gegevensbeveiliging.
QuickBooks - Overzicht
Prijzen
Prijsopties
Prijs-kwaliteitverhouding
---
QuickBooks - Functies
Markten
Verenigde Staten van Amerika, Canada, Verenigd Koninkrijk, Australië, China
en nog 5 andere
, India, Japan, Duitsland, Brazilië, Mexico
Ondersteunde talen
Engels
Media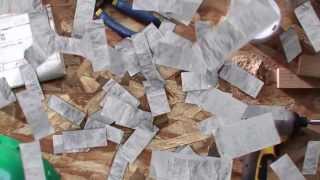 QuickBooks reviews
QuickBooks reviews
Prijs-kwaliteitverhouding
4,3
93%
heeft deze app aanbevolen
The newer online version is two thumbs up. I had a CPA that recommended I go back to the program and very glad that I took his advice. The new streamlined format is exactly what I need for my business.
---
I have been able to do much better cost-analysis and budgeting using QB. My company's "health" can be monitored regularly that shows me things such as what expenses I need to cut or reduce or what types of services should I be selling more of that show higher profitability. Overall, I am very happy and will continue to learn and utilize it every day. Thanks Intuit!
---
Overall, I have no intention of leaving QuickBooks.
---
QuickBooks Enterprise at first glance seemed like a good fit for my 5-location business. The feature set is rich, is a widely accepted accounting package and came with a nice support package. The fundamental features of the software are quite impressive and met the core needs of my business with range from retail sales to large projects. To handle the multiple locations, there is a "class" (location) construct that allows you to use a single chart of accounts and use class to designate where things apply. For standard income/expense accounts this works well and I can track sales and expenses easily. Where the implementation fall very short is with asset/liability accounts. For example, if you have 100 widgets in class A and 0 in class B (store A and store B) and you transfer 50 widgets to class B, the count of widgets is done correctly, but the inventory value of the transferred widgets still remains in the first class. It's made a mess of my inventory values and we've had to resort to processing manual GL entries anytime we transfer items from store to store. The same holds true with banking - the class structure is only partially implemented. There are work-arounds, but they're slow and cumbersome.
Reporting is another soft spot. There are plenty of pre-made reports that are decent and you can build custom reports. The issue is that custom reports are very unstable and more often than not, you'll find that reports lock up (or frozen as you'll read everywhere). This makes them pretty much worthless unless you enjoy creating a new custom report every time you want to use one.
Customer support is very energetic, but it's mainly people who have never used accounting software outside a PowerPoint driven training scenario. The usual answer is to either use Google or look on the Intuit community forums. Fairly disappointing. We've managed to figure most things out, but it's taken far longer than if we had access to people with real-world experience. There are a couple of great YouTube users (Hector) who were very helpful with their videos.
---
Overall it's been a positive experience. We've used Quickbooks from the very beginning and have no plans to change anytime soon!
---
Vergelijk de totaalscore met alternatieven
Vergelijk met alternatieven
Vergelijk gebruikersaanbevelingen met alternatieven
Vergelijk met alternatieven
Prijzen van QuickBooks
Prijzen van QuickBooks
Prijs-kwaliteitverhouding
Vergelijk scores voor prijs-kwaliteitverhouding met alternatieven
Vergelijk met alternatieven
QuickBooks - Functies
QuickBooks - Functies
Gegevens importeren en exporteren
Rapportage en statistieken
Vergelijk functiescores met alternatieven
Vergelijk met alternatieven
Categorieën
QuickBooks - Veelgestelde vragen
QuickBooks - Veelgestelde vragen
Hieronder zie je enkele veelgestelde vragen over QuickBooks.
V. Welke prijsmodellen heeft QuickBooks te bieden?
QuickBooks kent de volgende prijsmodellen:
Vanaf: US$ 10,00/maand
Prijsmodel: Abonnement
Gratis proef: Beschikbaar
V. Wat zijn de voornaamste functies van QuickBooks?
We hebben geen informatie over functies van QuickBooks
V. Wat zijn de typische gebruikers van QuickBooks?
QuickBooks heeft de volgende typische klanten:
Klein bedrijf, Grote ondernemingen, Freelancers, Middelgroot bedrijf
V. Welke talen worden door QuickBooks ondersteund?
QuickBooks ondersteunt de volgende talen:
Engels
V. Welke prijsmodellen heeft QuickBooks te bieden?
QuickBooks kent de volgende prijsmodellen:
Abonnement
V. Biedt QuickBooks ondersteuning voor mobiele apparaten?
QuickBooks ondersteunt de volgende apparaten:
Android, iPhone, iPad
V. Met welke andere apps kan QuickBooks worden geïntegreerd?
QuickBooks kan worden geïntegreerd met de volgende toepassingen:
AnytimeCollect, Avalara, ChargeOver, Field Harmony, Finale Inventory, IT Pro Dashboard, Livetecs, Time Tracker, Timesheets.com, When I Work
V. Welke mate van ondersteuning heeft QuickBooks te bieden?
QuickBooks biedt de volgende ondersteuningsopties:
Veelgestelde vragen, Forum, Online ondersteuning, Telefonische ondersteuning, Video-instructies, Kennisbank